Welcome to New England Door Closer, a third generation, family owned business committed to supplying, installing, servicing and standing behind the finest quality door hardware manufactured today.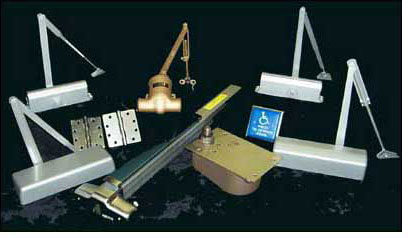 With the advent of wholesale hardware giants at both the residential and commercial levels, NEDC remains true to its mission of giving customers the prices they expect in today's competitive market and the measure of personal service that made the family business the backbone of the American success story.
Unlike many of the others in today's saturated architectural hardware market, NEDC stands alone as a true specialist. Our extensively trained sales and service personnel can you tell you much more about a product than whether it's just 'in stock'. NEDC asks you the right questions—the ones that get you the correct closer and accessories the first time. Our experience can also warn you of any potential problems you may encounter or give you technical advice not found in any instruction sheets.
And if you should find yourself with questions or obstacles, you can call NEDC's technical service department toll free at 1-800-628-1071. We handle each and every call personally. There is no automated answering system at NEDC—just a dedicated group of hardware professionals committed to serving you.
Our regular business hours are 8:00am – 4:30pm est. If you are unable to reach us via our main phone or fax number during these hours, check Facebook or Twitter where we will post information and updates of power or phone outages. Thank you!